FEPS 2009 – The physiology meeting organized by The Slovenian Physiological Society, The Austrian Physiological Society, and The Federation of European Physiological Societies.
The meeting was held in Ljubljana, Slovenia, from 12 till 15th of November 2009.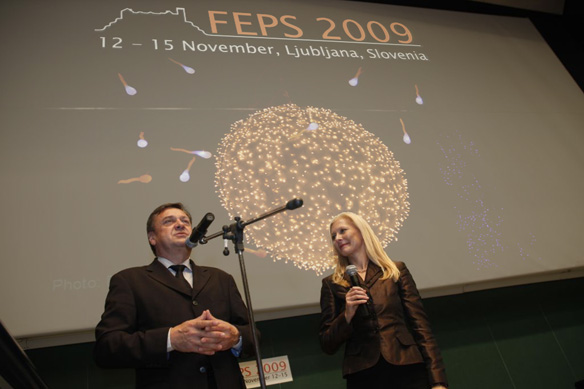 The Mayor of the City of Ljubljana Zoran JankoviŠ at FEPS 2009 opening ceremony
Photo: Mihael Peter Fras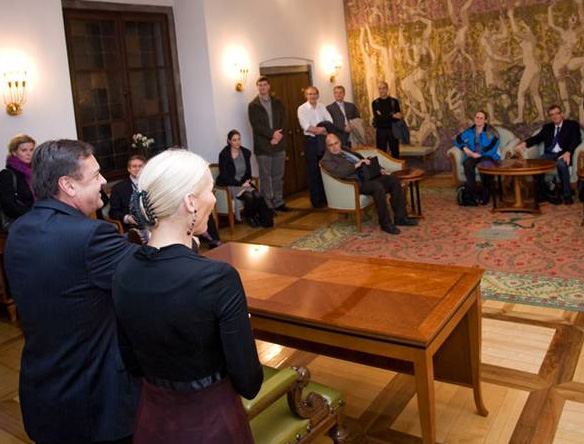 Reception in the wedding hall of the Town Hall (wall tapestry by Boris Kobe)
Contacts:

FEPS 2009
neuroendo@mf.uni-lj.si

Registration fee

(including V.A.T.):

Regular participant -
full fee
235 EUR
(10.Jul.2009 - 31.Oct.2009)
Onsite registration
(attendance only)

350 EUR

Undergraduate students (attendance only)

35 EUR

1 day pass (attendance only)

105 EUR

(Before the deadline 10. Jul 2009 the reduced fee was 180 EUR for Regular participant and 120 EUR for Graduate (PhD) Students).

Please transfer registration fee to:
Slovensko Fiziolosko Drustvo
Slomskov trg 15, 2000 Maribor
Tax No.: SI25377302
Bank Account: Nova Ljubljanska banka
IBAN: SI56 0201 0001 9230 313
BIC/SWIFT: LJBASI2X
Reference: Delegate's family name and initials.

Late registration and abstract submission is now closed.
Links to recent meetings organized by LN-MCP:
- International Cell Physiology & Engineering Meeting; 12th Young Neuroscientists Meeting; Advanced Microscopy Workshop 2005;
- International Meeting "Mechanism(s) of Exocytosis 2008" and "15th Young Neuroscientists Meeting"
- Cell Sciences Seminar & Super-Resolution Microscopy Workshop 2010